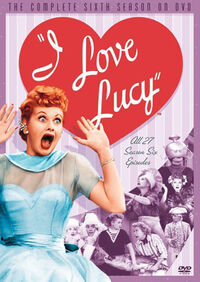 Below are two lists of all 26 episodes filmed for season 6. At the end of this season, I Love Lucy finished its run once again back at #1 in the ratings. Because there is discrepancy between filming order and broadcast order for some of the episodes, two lists will be provided, giving both orders. Different fans prefer to order the episodes different ways, and both ways are technically correct, so long as it is specified whether the number represents filming or broadcast order.
Episodes
[
]
| | |
| --- | --- |
| Filming Order | Broadcast Order |
| | |
**Note: If you are a fan who considers there to be a total of 180 episodes, where you count the Christmas special as a show, it originally was broadcast between "Little Ricky's School Pageant" and "Lucy and the Loving Cup."
I Love Lucy

Seasons

Characters

See also